Same UFO Sighting Ring in the Sky Spotted in 3 Different Cities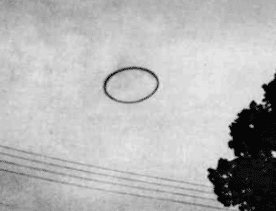 Fifteen people were witnesses to the UFO sighting of the ring in the sky pictured at left at a Ft. Belvior, Virginia U.S Army facility in September 1957.
There have been mixed explanations by the many people who have since viewed the UFO sighting image. Some think it is a sign from heaven while others believe it to be a bad omen. Still others believe it to be an alien UFO. Another logical explanation might be that the ring is smoke, however, it doesn't appear to breakout or dissipate like smoke or gas.
How did the government explain this UFO picture in 1957? Did they think it was just smoke? No, no, no. Not at all. The United States Military alleges that this picture is a smoke ring, in fact, a product of an atom bomb simulation.
Very interesting indeed. There are more recent UFO videos that show two other interesting rings hovering over the clouds.
These very similar rings were seen in different parts of the world. The first UFO video is from Kosovo, Russia. The other was taken in Doswell, Virginia at the Kings Dominion Amusement Park.
Interestingly, there was an eyewitness to the Kings Dominion Amusement Park sighting. She was interviewed on television in a CNN video segment – Kings Dominion UFO Sighting. The Amusement Park stated that the ring was from smoke coming from one of their rides, the Volcano.
So if I follow the Military's explanation, then these rings are from atomic bomb simulations. Now unless I've missed recent news, it is highly doubtful bomb simulations are common place in Virginia in 2010. It is interesting that Fort Belvior, Virginia is about 70 miles from Doswell. Of course, the two sightings are 53 years apart as well.
So it seems that once again the U.S. Military wasn't entirely truthful. Guess back in 1957, they didn't figure that the UFO phenomenon would have an audience on the internet with thousands of people easily able to compare and review sightings.
Now Kosovo, well, can't really comment on whether there are bomb simulations going on there. That might be a whole, different story. But certainly the similarities between these 3 UFO sightings would indicate that these UFO pictures are not just smoke, gas or a-bomb simulations.
My first impression when seeing this ring was that it was a picture of an Alien UFO Sighting. A perfect circle in the air, just hovering. To me, it appears as if it is trying to blend into the clouds perhaps with a stealth cloaking device of some sort. Is it a camera? A strange portal or worm hole? Please comment and let me know what you think.