A History of UFOs: 1870 – 1960 (Part 1)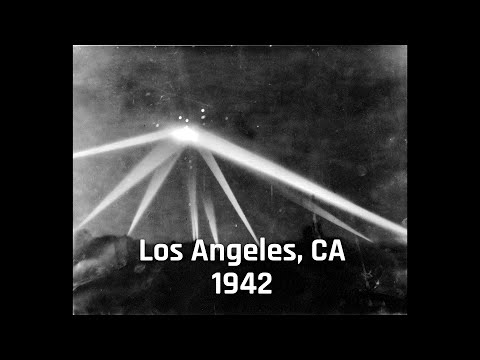 A History of UFOs in Pictures
The first photograph on our list was taken in 1870, 33 years prior to the invention of the airplane in 1903. Taken from the summit of Mt. Washington, New Hampshire, the cigar shaped object appears to hovering in front of a large cloud and is widely considered to be the oldest known photograph of a UFO.
Captured by a volunteer fireman in the small town of Cave Junction, Oregon in 1927, this classic silver disc remains one of the most impressive UFO photographs, despite being nearly 90 years old.
Our third photograph was taken by Edward Pine, who worked at a local sawmill in 1929, in the small town of Slide Ward, Colorado. Witnesses reported feeling the ground tremble, just before seeing the metallic object flying overhead. Well before the installation of street lamps or power lines, George Sutton was photographed standing near his car in St. Paris, Ohio underneath this bell shaped UFO in May of 1932.
On February 25th, 1942, the city of Los Angeles California was on high alert after the attacks on Pearl Harbor. Frightened citizens reported bright objects flying in from the coast, prompting the military to issue a city wide blackout. At the center of the spotlights, a disc shaped object can be seen taking fire from anti-aircraft guns, which seemed to have little effect. Dubbed the "Battle of Los Angeles", this photograph remained one of the most iconic pictures in the history of ufology.
Captured in England in 1944, little is known about the circumstances behind this mysterious photograph, or the mysterious object seen flying overhead. John Jannsen, the editor of an American aviation journal, was flying his plane over Morristown, New Jersey in 1947, when he spotted six lights in the sky above him and was able to capture four of them together in this photo. Jannsen claims the objects returned several weeks later, but was unable to photograph them for a second time.
On July 7th, 1947, William Rhodes spotted this strange object circling the skies above Phoenix, Arizona, and was able to capture it in two different photographs.
This silver UFO was photographed by Frank Tyman in Seattle, Washington, while stationed as a member of the United States Coast Guard. He approximated the object to be moving at 300 miles per hour, at an altitude of 10,000 feet.
One of the earliest known color photographs of a UFO, the object seen hovering above these trees was captured in Scotland in 1947 and is clearly not a conventional aircraft.
Our next photograph was taken in 1949 by Seargent Leo Davidson while attending a local church carnival in Cincinnati, Ohio.
A classic example of a bell shaped UFO, this photograph was taken by Dean Morgan, who was visiting Redbud, Illinois, in 1950.
Captured by Paul Trentin 1950, this photograph of a UFO flying over his farm in McMinneville, Oregon, was first published in a local newspaper, and then later published in Time Magazine. One of the most celebrated pictures of all time, McMinneville is now home to one of the largest UFO festivals, which is held around the time of the original photograph, on May 11th.
Our next photograph was taken by Guy Marquand, Jr., over the red hills of Riverside, California, on November 23rd, 1951.
Witnessed by over 100 people in the skies above Lubbock, Texas in August of 1951, a local student named Carl Hart captured this unusual v-shaped formation from his dormitory window. The photographs were later published in Time Magazine, when it was found that three of the other witnesses were respected professors at Texas Tech University.
Photographed by Ed Kessel on May 7th, 1952, this image of a classically shaped UFO was investigated by the Brazilian Airforce, and was concluded a genuine sighting after speaking to an additional 40 witnesses.
On July 16th, 1952, Shel Alpert snapped this photo while working as a member of the Coast Guard in Salem, Massachusetts.
Our next photograph was taken by a French engineer, Andre Fregnale, on July 18th, 1952.
Although the original photographer of this image remains unknown, witnesses claimed it was traveling at a high rate of speed and emitting long trails of white smoke, similar to a jet aircraft. It was photographed on June 5th, 1953, in the skies above Namur, Belgium.
While flying at an altitude of 36,000 feet, a Royal Canadian Airforce pilot took this photograph near Fort Macleod, Alberta in 1956.
Taken by Shinichi Takeda near Inoshima Miami Beach in 1957, over 15 witnesses claimed this object made an impossible 90 degree turn before vanishing into the clouds.
While piloting a B-57 jet fighter above Edwards Airforce Base in 1957, an anonymous pilot took this compelling photograph of a strange object that appears to be following behind the airplane, but was not seen by the pilot until after the film was developed.
Witnessed by more than 50 people, this object was photographed by Almiro Baurana, a native to the Trinidade Islands on January 16, 1958, located approximately 600 miles from the coast of Brazil.
As found on Youtube